Sintop Fixtures annual work conference in 2023
14-02-2023
Sintop Fixtures annual work conference was opened in 6th February 2023.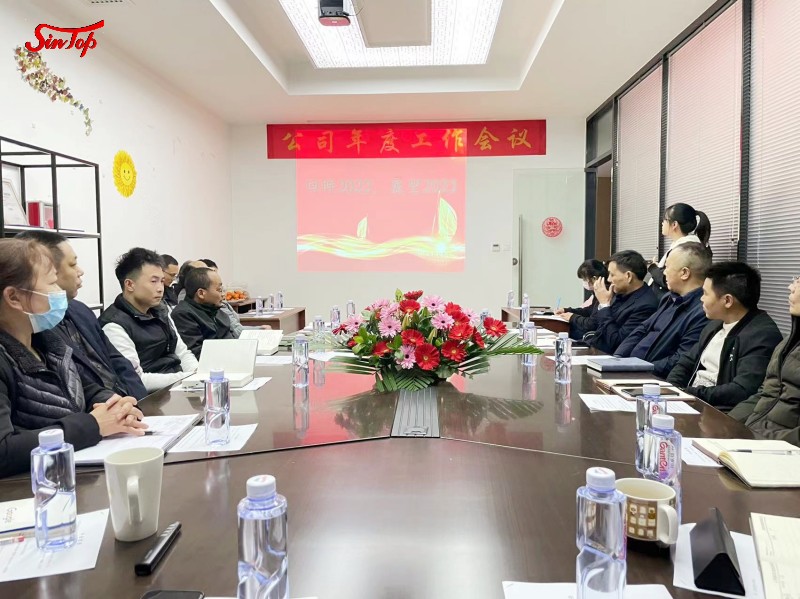 First: Each department reports on the 2022 annual work summary and 2023 work plan.
Sales department work focus:
1. Focus on foreign business, supplemented by domestic trade, and strive for foreign orders;
2. Learn more about the hot-selling products of e-commerce, such as Amazon.
Engineering department work focus:
1. Ensure the timeliness and accuracy of quotations and drawings;
2. Improve the production efficiency and first pass rate of samples, and reduce the cost of making samples. For example, the clips welded on the fixture can be replaced by self-tapping screws, so that the clips can be reused;
3. Mechanical maintenance personnel should do a good job of checking the equipment, steel structure workshop and outer wall of the factory building.
4. Barbecue racks and storage racks are required to be introduced to the market as soon as possible.
Production department work focus:
1. It is necessary to save the first material, strictly follow the order to pick the material, and control the quantity of defective products
2. Wooden orders should be received as much as possible
3. Welding class should improve equipment utilization
4. Complete the production work with good quality and quantity

Supply Department work focus:
Purchasing Collect information from multiple suppliers through as many channels as possible to shorten the procurement cycle of special materials.


Management Department work focus:
Adjust the performance appraisal of cadres, increase learning ability, mutual assistance and solidarity, enthusiasm, execution ability, etc.;
Second: Sintop fixture senior director on behalf of the sintop fixture made a summary of the company's business operations in 2022 and a business plan for 2023.
The last: Sintop fixture Boss Jack commented that: In the new year, I hope that on the basis of 2022, the management of all departments need to go further; in terms of responsibilities, both you must perform each duties and unite and help each other in 2023.